Winter Series 2019
The first race is on May 5 and then the 1st and 4th Sunday of each month until the end of September.
Race 2 Start
| Race 2 Finish
Race 1 Start
|
Race 1 Finish
Two Island Race 2018/19
Race 1 | Race 2 | Final Placings
12.00 start, Lion Island to port, Scotland Island to starboard, finish.
Finish time recorded then handicap applied.
Summer Series 2018/9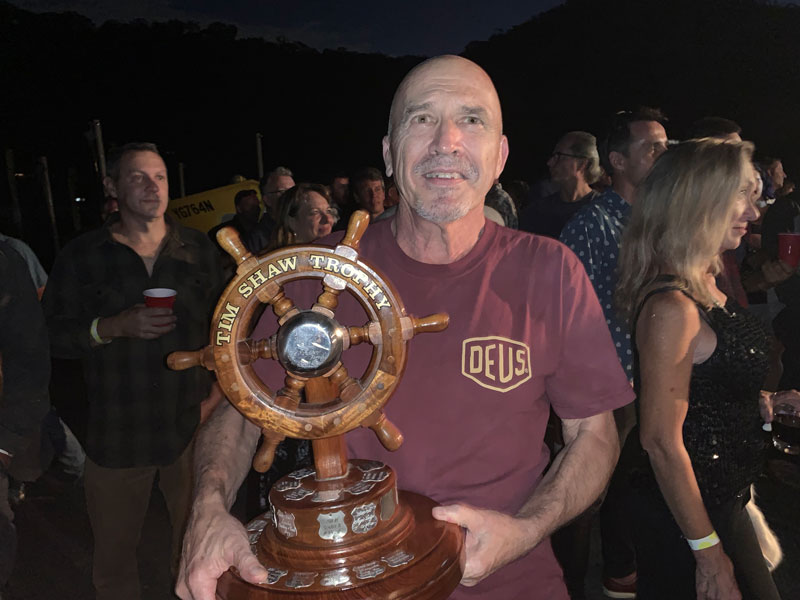 Star struck Rex, one of the crew on the 2018-2019 Winner 'Isabelle' collecting the prized Tim Shaw Trophy on behalf of Captain Sandy Richardson.
Race 21 Start
|
Race 21 finish
Race 20 Start
|
Race 20 finish
Race 19 Start
|
Race 19 finish
Race 18 Start
|
Race 18 finish
Race 17 Start
|
Race 17 finish
Race 16 Start
|
Race 16 finish
Race 15 Start
|
Race 15 finish
Race 14 Start
|
Race 14 finish
Race 13 Start
|
Race 13 finish
Race 12 Start
|
Race 12 finish
Race 11 Start
|
Race 11 finish
Christmas and New Year – Race 11 – Jan 9, 2019
Race 10 Start
|
Race 10 finish
Race 9 Start
|
Race 9 Finish
Race 8 Cancelled due weather
Race 7 Start
|
Race 7 Finish
Race 6 Start
|
Race 6 Finish
Race 5 Start
| Race 5 Finish (Abandoned)
Race 4 Start
|
Race 4 Finish
Race 3 Start
|
Race 3 Finish
Race 2 Start
|
Race 2 Finish
Race 1 Start
|
Race 1 Finish
Weather
Rules
Incident Report Form
Emergency Guide and Procedures for Broken Bay